The Monkey Farm is in the process of creating what we believe to be the first wildlife rescue center in the world that will be completely self-sufficient and sustainable. We are a group of international volunteers who are turning an old farm into a monkey and wildlife rescue center, while living and learning on site.  workaway
Our hope is that our revolutionary self-sufficient and sustainable monkey and wildlife rescue center will become the model for future sanctuaries and rescue centers to follow worldwide. workaway Costa Rica
As far as we know, all rescue centers in the world are dependent on outside sources for water, energy, and food to feed both the wildlife and the animal care givers.  This means that if a natural disaster or any type of emergency were to happen, the animals could be in serious danger of not being able to be cared for.  We intend to create a rescue center model that is self-sufficient in every way.
We live at the farm for a minimum of a month, but the average stay is two months, with no limit to how long we can stay. Our average day consists of caring for the farm animals and for the wildlife that we rescue, in addition to working on our organic farming and gardening. We are combining many permaculture and organic farming methods to conserve water in what we call "Guerrilla Gardening". We are determined to grow food during the six months of drought we have every year, so we have declared war on our annual drought.
What we learn about gardening in droughts, we share with others. In addition, every Tuesday evening at 7:00, we feed the poor and homeless in nearby Playas del Coco. On Monday and Wednesday evenings, from 6:00 to 8:00, we teach English to native adults who would like to get better jobs to provide for their families. We care as much about our fellow men as we do animals.
We currently have volunteer guided horse tours through the jungle to the beach to bring in some funds to move the project forward. Come and play with our baby animals, see the wildlife, learn about aquaponics, and see what we are doing!  We love visitors! workawa
The Monkey Farm is a non-profit 501(c)(3) organization and also a Costa Rican registered non-profit.
Workaway at The Monkey Farm  Workaway Volunteers find us through sites such as wwoof and wwoof  and workaway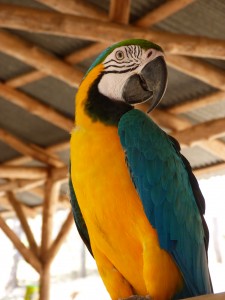 The Monkey Farm is in its infancy, having just recently been established.  The farm is run by volunteers from all over the world who come and live and learn on site, while sharing their own knowledge and skills with the others while in an idyllic tropical environment near the beach.
International volunteers connect with the farm via websites such as wwoof, workaway, and helpx, which list farms in which volunteers can go live and work for free. Our live-in volunteers must commit to stay at least a month and be at least 18 years old.
We also LOVE our local volunteers who come and help for a few hours whenever they have time. Our local volunteers are invaluable in helping with animals, repairs and special projects. If you are staying nearby, and would like to come and help us for a few hours, Contact us. We will set up a time to show you around and talk about what is needed and how you can help. Then, you're free to come as you please whenever you have time.
Equally important are our long-distance volunteers. If you can't come and see us (yet!), you can get involved by helping us with projects like fund raising, article writing, and promotional materials. If you would like to help us in this way, please contact us about how you'd like to help.
It's not only monkeys and wildlife we aim to help. We research and develop ideas that can be shared with the surrounding community. These solutions can be concepts such as aquaponics or forest gardening, helpful systems such as composting toilets and solar food dehydrators or beneficial superfoods such as Moringa, Noni, Soursop or Red Reishi mushrooms.  Aquaponics systems use 95% less water than conventional farming, and it seems our whole world is in a drought and needs to conserve water.  We hope to help our planet by teaching people how they can have their own small scale, or even large commercial aquaponics systems, thereby conserving water for everyone.
In addition to teaching the solutions we've found, we also have a program in which we feed the poor and homeless of nearby Playas del Coco every Tuesday evening. We begin cooking each Tuesday at 3:30, preparing healthy, protein rich food. We then take the dinners to the beach in Playas del Coco and serve them at 7:00.  The poor adults and children gather there every week to eat our delicious meals complete with cookies and juice.
The backbone of our operation is a constantly renewing team of volunteers who arrive with new ideas and energy and leave inspired and motivated. Our approach is very much based on hands-on work and taking initiative. We wish to equip all of our volunteers with skills and understanding so that they are able to relay the torch to newcomers as well as represent the farm in the community. workaway  
workaway
workaway
We are a growing team of enthusiastic volunteers and professionals from all over the world working together to complete The Monkey Farm vision. We are creating a revolutionary "think outside the box" new model for how to live sustainably and self-sufficiently in the tropics, and best practices to run a monkey and wildlife rescue center.
The Monkey Farm received it's non-profit 501(c)(3) status in the United States on June 22, 2015 and also has it's Costa Rican non-profit status, so all donations are tax deductible.
Our Board of Directors and Staff
Ismael Carranza Ortiz, Our Biologist and Regent in Charge
Ismael began working with The Monkey Farm in December, 2014. He is licensed as a "regente", a special designation to be over a rescue center, by the Costa Rica University of Biologists.
Dr. Thomas Lester, DVM
"Dr. Tom" has his Masters degree as a Doctor of Veterinary Medicine, with a PHd. in Veterinary Microbiology. He is Board Certified in veterinary microbiology with subs in virology and specialties in bacteriology, mycology and immunology. Dr. Tom loves to teach, so we often have him give classes on parasitology and similar subjects.
Vicki Conley, Co-Founder and Volunteer Coordinator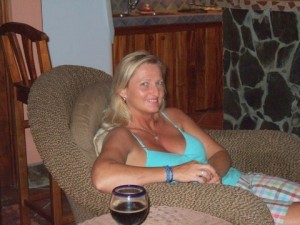 Vicki, from Southern California, is one of our founders. She has been rescuing wildlife ever since she was a young child, and has worked in the animal industry "forever".  She came to Costa Rica in 1999 and has no plans to leave. Vicki also speaks Spanish.
workaway
Dr. Ariel Arias
Dr. Arias became involved with The Monkey Farm in 2014.  He is a graduate of the College of Veterinary Medicine in Costa Rica.
John Burke, Ministry and Feeding the Poor
Norvin Mejias, Architect
Dr. Maria Jose Coronado Miranda
Dr. Coronado also became involved with The Monkey Farm in 2014.
Dr. Kim Thabault
Heather Padilla, Fundraising Manager and Systems Manager
Heather graduated from Imperial Valley College in 2013 with an Associate in Arts degree with Honors in University Studies- Her emphasis was in Science and Mathematics.  She also earned an Associate in Science with Honors in Mathematics. Heather then graduated from San Diego State University in 2016 with a Bachelor's degree in Liberal Arts and Science- Mathematics with honors. She was also part of San Diego State University's Student Research Symposium. Her research was to "Introduce Hatching and Rearing Mallard Ducks to Increase Students' Academic Interest and Performance in Mathematics and Science".
Heather oversees the raising of the funds required to create the vision for The Monkey Farm. She also creates, facilitates and manages the systems required to operate the farm and rescue center on a daily basis to eliminate errors, especially in the areas of animal care.
Permaculture Farming Manager (Searching)
Construction Manager
Domestic Animal Manager
Manager of Equine Activities
workaway
 workaway
© Copyright The Monkey Farm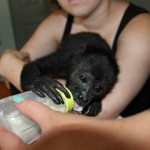 The Monkey Farm in Playa Ocotal, Guanacaste, Costa Rica is a natural habitat for both howler and white face monkeys, parrots, toucans, deer and other wildlife. We understand what permaculture, regenerative farming and sustainability are all about. Therefore, we welcome the monkeys and cherish them as part of the natural environment we live in.
However, there is an ever increasing demand for a monkey rescue and rehabilitation center in this area.  Most commonly the monkeys fall victim to the un-insulated power lines we humans have built across their land. They also are victims of attacks by dogs or other monkeys, falling and breaking bones, and sometimes babies get abandoned by their mothers for various reasons.
Furthermore, every year during the dry-season (January-March) violent human-initiated wildfires destroy the trees the monkeys feed on and force the monkeys to flee from their homes.
A unique feature of our farm will be our tree cabins and animal enclosures connected by hanging sky bridges in our wildlife sanctuary. Our volunteers will live in the tree cabins, among the tree canopy. Our "village in the trees" will treat and care for arboreal wildlife in their own environment, rather than treating them on the ground in our environment. This will encourage natural habits from the start.
All recuperated wildlife will be free range, not kept in cages. This will enable them to return to the wild when they decide they are ready rather than have the decision forced upon them or worse, holding them captive long after they are ready to be free.
The monkeys we rescue will be fed the absolute best substitute for their own milk, which is fresh raw goats milk. We obtain this nutrient rich liquid gold from our own goats, which we milk twice daily. We also grow fresh lettuce, spinach, moringa, purslane and other fresh organic food for the monkeys to supplement the leaves and fruits they harvest themselves from the trees growing on our farm.  We will soon create a monkey food forest to supplement the naturally occurring monkey food that is growing on the farm.
If you are interested in hearing how we plan to tackle this invigorating long-term challenge, take a look at the plan of action.
If you like what we do, please support us with a donation:
© Copyright The Monkey Farm
workaway
workaway
Developing a new model for monkey rescue and organic farming combined
with workaway volunteers
Our vision at The Monkey Farm is to become a combined monkey and wildlife rescue center and an organic farm, run entirely by volunteers.  We currently have both local volunteers and International volunteers coming from all over the world to help us reach our goals.
The plan is that the volunteers will grow food using sustainable permaculture methods to feed both the volunteers and animals. In addition, the long-term volunteers will care for the monkeys and wildlife that we rescue.  When we produce enough organic food products, the excess will be sold to support the project. Until then, we are dependent on donations. workaway
Here is a simplified overview of a plan that outlines the actions that we are planning, as well as the estimated cost of implementation for each phase:
Phase 1
Needs: Acquire the land. Take immediate action to protect the monkeys on the land from electrocution.
Actions: Acquire part of the land. Shield the cables so monkeys can't climb them to get to the transformers. Prune the trees so monkeys can't reach the transformers. Install monkey bridges for safe travel. Get an infrared motion-activated camera to follow the monkeys' movements. Spread awareness of the issue in the community.
Timeline: 2013
Cost: $26,000
Status: COMPLETED
Phase 2
Needs: Secure the habitat from wildfires in the dry season.  This will be accomplished by constructing a perimeter fence around the property, and a second fence approximately 30 feet inside that one.  Then we will allow our livestock to graze this perimeter strip, creating a natural fire break to protect the land from fires.
Create a structure and plan for future volunteer-based rescue activities.  Begin cultivating produce to feed the volunteers and the farm animals. Plant trees the monkeys like to eat from. Gain community awareness and support for our project.
Actions: Bring in the volunteers. Start planting food for the volunteers and animals. Plant trees to attract and feed the monkeys so that they feel safe and welcome. Purchase livestock (horses, goats, sheep and a milk cow) to graze the perimeter to build a natural fire break, plus provide additional food for the volunteers through eggs, dairy products and meat. Build additional enclosures for the animals and improve existing ones. Create infrastructure for the volunteers to live on the farm, including improving the volunteer cabin, and creating a communal kitchen, more composting toilets and additional sleeping quarters. for our workaway volunteers
Timeline: 2014
Cost:  $25,000
Status: IN THE PROCESS
Phase 3
Needs: Save the land that is the monkeys' natural habitat. Create the infrastructure for the future rescue center.  Create sources of income to support the entire operation.
Actions: Acquire more land for the monkeys and safeguard the new expanded area. Build a community kitchen for both the volunteers to use, and to process cheese and organic food for sale. Create natural style enclosures for the monkeys and other wildlife that we will rescue.  Carry out a major public awareness campaign.
Timeline: Early 2015
Cost: $200,000
Status: INITIATED
Phase 4
Needs: Become an official Monkey Rescue Center that caters to the needs of orphaned and injured monkeys, in addition to other wildlife. Continue to create infrastructure to support the volunteers. Continue to expand the amount of land we have for our use.
Actions: Complete the government permit process.  Build additional structures for both the rescue animals and the volunteers that care for them. Acquire more land.
Timeline: 2016
Cost: $100,000
Status: UNDER WAY
If you want to help us reach our goals:
workaway
workaway
Help us build this magical place! Donate Today!
The Monkey Farm in Costa Rica is a volunteer-run non-profit 501(c)(3) that combines organic farming and permaculture with monkey rescue activities.
workaway
Thanks for your help...