Live-in Volunteers
Our live-in volunteers come from all over the world and live at the farm.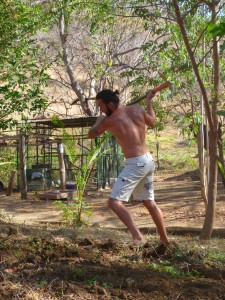 Many of our International volunteers connect with us through websites such as wwoof Costa Rica, workaway Costa Rica and Helpx. Above you can watch dozens of video testimonies of former volunteers at The Monkey Farm and get a good idea of what to expect here.
We welcome emotionally mature volunteers at least 18 years old, who are dedicated to a healthy lifestyle, free from illegal drugs, tobacco or alcohol abuse. A clear vision starts with a clear mind.
We are in the process of creating what we believe to be the first wildlife rescue center in the world that will be self-sufficient and sustainable. Our hope is that our revolutionary "think outside the box" new model for sustainable monkey and wildlife rescue centers will become the model for future sanctuaries and rescue centers to follow.
workaway Costa Rica
Nearly all rescue centers in the world are dependent on outside sources for water, energy, and food to feed both the wildlife and the animal care givers.  This means that if a natural disaster or any other type of emergency were to happen, the animals could be in serious danger of not being able to be cared for.  We intend to create a rescue center model that is self-sufficient in every way.
We are combining many permaculture and organic farming methods to conserve water in what we call "Guerrilla Gardening". We are determined to grow food during the six months of drought we have every year, so we have declared war on our annual drought. Paul on the left is from South Africa and he found The Monkey Farm through Workaway Costa Rica.
Our volunteers will care for the monkeys and other wildlife that we will rescue.  They also care for all the farm animals, plants and most of all, we care for each other. We often work with our local volunteers on special projects such as creating a solar hot water heater out of recycled materials, or building a composting toilet. We are planning to expand our beekeeping, enlarge our aquaponics systems, and build tree cabins for volunteers. We will soon be building a solar food dehydrator, a wood burning pizza oven, more electrical fencing, a natural swimming pool and many other special projects. workaway Costa Rica
There is no charge for the volunteers to come and stay at the farm, however since we are just starting out, there is very little food growing so far. Until we are growing more food, we are all pitching in to purchase our food communally in bulk. A volunteer should plan to contribute $20 per week toward communal food and items.  Another $30 should be budgeted for personal eating out, drinks, activities and any other extra things that you would like to do or buy for yourself. This is a total budget of $50 per week as a guideline.
If you are interested in becoming a live-in volunteer, please read more about our expectations and then fill out our application and we'll get back to you right away.                                                    workaway costa Rica
Workaway Costa Rica
We welcome emotionally mature volunteers at least 18 years old, who are dedicated to a healthy lifestyle, free from illegal drugs, tobacco or alcohol abuse. We also require our volunteers to speak respectfully; cursing and/or foul language are not appropriate for the happy, healthy atmosphere we are cultivating. If you wish to join our family and be in a "clean" healthy atmosphere, this is the place for you. A positive attitude and self-motivation are a must. You must be as eager to produce results as we are to see them.
We work hard for 30 hours a week, with everyone signing up for their own schedule. We have two 5-hour shifts available per day. The first shift available is from 7:00 to 12:00. The second shift is from 1:00 to 6:00, with lunch being served from 12:00 to 1:00. This means you could potentially work 3 consecutive 10-hour days, and then have four consecutive days off to explore other parts of Costa Rica and nearby Nicaragua.
We are in our infancy and have many ideas, projects and dreams and welcome hard-working driven volunteers with positive attitudes to help us make this dream come true. We need immediate help in fundraising and grant writing. We give preference to people who are willing to commit to longer stays and/or people who are willing to help us by completing a fundraiser before they arrive. from workaway Costa Rica
We really are just getting started and still far away from being sustainable. You need to come here with the attitude that you are going to help us advance and make improvements, not focus on what we haven't yet done, or what we don't have in place yet. We are working very hard to become more and more self-sufficient and grow our own food. What we do grow and raise ourselves, we share. If you don't have knowledge of basic permaculture principles, you can take a free course online by clicking here. workaway Costa Rica    workaway Costa Rica
Most of the permaculture farms and wildlife rescue centers today get their money by charging their volunteers money for the experience of working with them. While there is a cost involved in hosting people, we also value the efforts of our volunteers and aim to be a fair farm. Therefore, rather than charging volunteers, we cover our operational costs with donations and fundraisers.
Right now we are still taking baby steps and rely heavily on the kindness of our fellow human beings. If you feel like supporting our volunteer run activities with fundraising, please ask how we can help you do this.  workaway Costa Rica
If you feel like this could be the right place for you, please fill in the application!
workaway costa Ricakaway Costa Rica
The daily work flow is pretty organized. We start with daily chores, such as feeding animals, milking the goats, collecting eggs, etc. Then we work on current projects such as aquaponics or regenerative farming and gardening, fence building or construction projects. You can take a free online permaculture course here.  workaway Costa Rica                workaway Costa Rica
It's largely up to the volunteers to decide how to live together at The Monkey Farm. We pool our money to make joint purchases of food and share in the cooking and cleaning duties. Plan on contributing $20 a week towards communal food and supplies. We are eating very well on that small amount of money per person.
Provided is either a bed in the shared volunteer cabin or a place to pitch your tent, a communal kitchen, and two enclosed outdoor jungle showers. We do have fairly rapid internet and a wi/fi connection. There is also equipment to go snorkeling, fishing, (the beach is just half a mile away) and some bicycles for volunteers to ride.
Because of our popularity among volunteers, we turn down many more volunteer applications than we can accept. Therefore, if you are accepted, that means we turned down many people that wanted to be here, in order to give a space to you. It is important that you understand the importance of completing the entire length of the stay that you committed to and that you have a work ethic that demonstrates that you appreciate the opportunity to be on the farm.
All in all, it's a great place to be. No one here is an all-knowing guru. We are here to learn from each other and will try to select volunteers who have something they can teach the others. If you are interested in being a part of our family, fill out the application.
Sustainable Living begins with Sustainable Relationships.  We are building lifelong friendships here at The Monkey Farm.
Life is good at the Farm! Good hard work, nice friendly people and an international environment make this a magical place.  We aim to make a change in this world, one step at a time. We live a clean and wholesome lifestyle without drunkenness, illegal drugs, or tobacco of any kind.  Check out our photo galleries to give you a better idea of what to expect.
Check our photos now! • Check us on Facebook
We rise early in the morning when the rooster crows.  We have a brief meeting at 7:00 to divide up chores and choose special projects.  We then work until lunch time, which is at noon.  We have an afternoon shift you can sign up for if you choose.  We require 30 hours of work per week and have two 5-hour shifts available per day. This means, if you choose, you can work three 10-hour days in a row, and then have four days in a row off. This can give you time to explore other parts of Costa Rica or nearby Nicaragua. During free time, we take a break and relax, chill, walk to the beach, go to town, ride the horses, go snorkeling, surf fishing, spear fishing, diving, go on a field trip, read or watch a movie on the barn wall with our projector.                        workaway Costa Rica
There is a rustic volunteer cabin, made entirely out of wood. It has cracks in the wavy floor and holes in the screens and the door doesn't quite close right. A mosquito net is a good thing to bring for your bed. The good news is that the roof doesn't leak!  There is a separate room, somewhat private, suitable for a couple or two friends staying for a longer time. There are four other twin bunks in the common area of the small cabin.
We refurbished another area in the barn which has one king size mattress in the loft above. There's not much privacy though. We are currently working on building our first "tree cabin" 20 feet (6 meters) above the ground for volunteer housing.  We plan to build many more in the very near future.
There is a spare tent we can lend and infinite camping opportunities. If you have your own tent or a hammock that would be fantastic!
For now, we have one bathroom in the volunteer house and have just finished our first humanure composting toilet. There are several water faucets and huge sinks around the farm, as well as two outdoor jungle showers beside the volunteer cabin. We do not yet have hot water, but hope to install passive solar water heaters. Both the volunteer cabin and the barn have electricity.  All water on the farm is clean and safe to drink right out of the faucet.
There is an outdoor communal kitchen area, with a large grill, four burner gas stove, microwave, toaster oven, pots, pans, dishes, utensils, tables and a refrigerator for common use. We also have a root cellar for food storage.
You are expected to prepare your own breakfast and dinner, however most of the volunteers choose to pool everything and cook, clean and eat together. We always share lunch together. We eat extremely delicious and healthy food here!  In fact most volunteers put on a few pounds, even with their hard work. You won't find "rice and beans" served as a common meal here.      workaway Costa Rica
We have a small scale successful aquaponics system, a few small planting beds, a small food forest and some animals: horses, goats, sheep, pigs, chickens, ducks, turkeys, peacocks, hedgehogs, cats, dogs, rabbits, and tilapia. We are currently making goat cheese, tropical fruit wines, kombucha, kefir, pickles and medicinal teas.
For transportation, we have bicycles and we are trying to get more. We are just a few kilometers from a quaint tourist town where there are restaurants, grocery stores and fruit stands. There are two body boards and some snorkeling and fishing gear that you can use on the beach, a mere half a mile away.  We currently have a fairly fast internet connection, so you can Skype or video chat with friends and family back home. We also have a library that includes both books and movies. The atmosphere is totally laid back, loving, kind, and we all love to joke and play games.
We all learn from each other as we work. We regularly make things like kombucha, goat cheese, kefir and yogurt, so you will learn this if you want to.
If you feel like supporting our activities with fundraising, please ask how we can help you do this. If you feel like this is the right place for you, please fill in the application!
Interested in wildlife rescue, monkeys, permaculture and organic gardening? Ready for a challenge? Great! We need your help!
Find out all the different ways you can get involved with The Monkey Farm in Costa Rica!
Fill the application form
Learn all the different ways you can help The Monkey Farm!
The Monkey Farm in Costa Rica is a registered 501(c)(3) non-profit organization that combines organic farming and permaculture with monkey and wildlife rescue activities, while being run 100% by volunteers from all over the world!
workaway Costa Rica
Click Here to See How You Can Help!