Choose Your Fundraising Project Now!
We have many different needs that you can get passionate about
All the past, present and future Monkey Farmers thank you for helping make this dream come true!   Together, we can make a difference!
Fundraising Made Easy
Since we are just getting started, our greatest challenge or obstacle right now is funding for all the things that we need and the projects we need to do.  For that reason, we give preference to volunteer applicants who will complete one of the fundraisers below, before they arrive.  We've made it easy for you!  This can be done very simply using our step-by-step instructions.
3 Easy Steps:
Choose a specific item or project from below that you would like to raise money for and tell us what it is. There are items from $500 and up. We try to provide variety so that you can choose something that YOU can be passionate about
We will set up a page specifically for your personal fund raiser. We will tell people everything they need to know about us and our goals and why you are helping us, and we'll add lots of pictures. We'll do it all for you and then send you the link.
Follow the instructions we'll send you to make your fundraiser a success. How simple is that?
As donations are made, there will be a progress indicator on the page showing how much you have raised and who has donated (unless they choose to remain anonymous). You will be informed at all times how you are doing, right there on the page and can check it as often as you like. Below is listed our most current needs at The Monkey Farm.  Choose one of these, then contact us now to tell us which item you will be fundraising for!  Click each tab to read about your choices: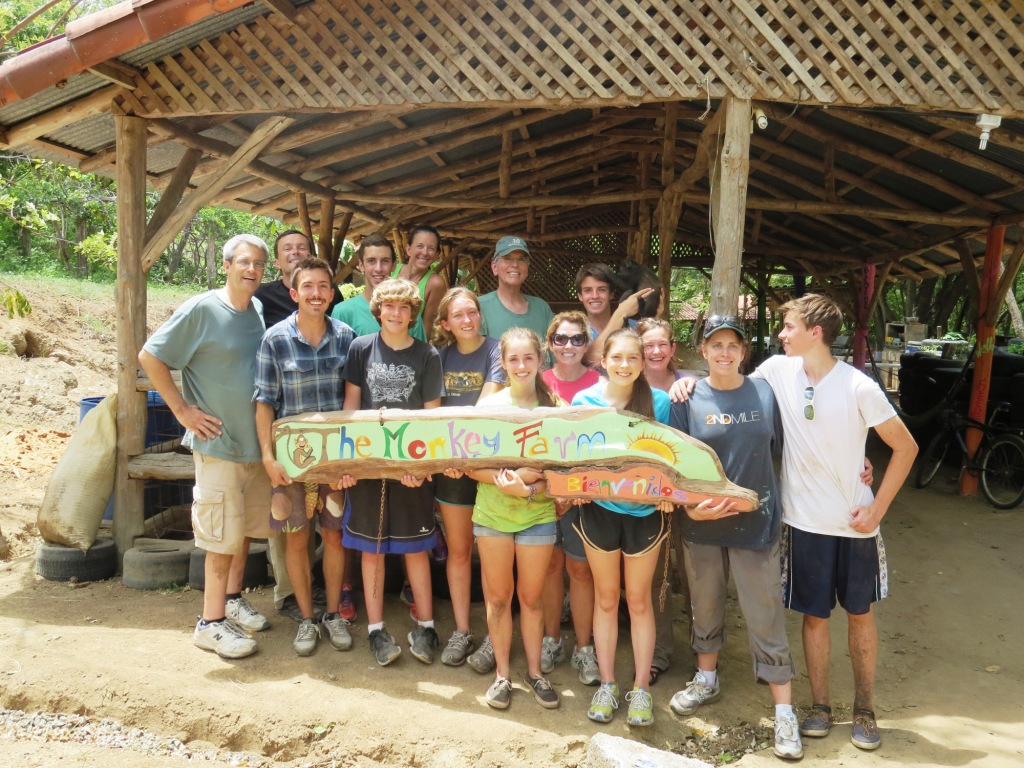 General Operating Expenses- $500  The Monkey Farm has many general expenses that we need help with. These include veterinary bills, medicines, the farrier, animal food, gasoline, utilities, repairs, maintenance, small projects, improvements, and the list goes on.  Please help us to keep operating and improving, by doing this fundraiser for us!
Animal Shelters from the sun and rain- $750  Each pasture or paddock we build needs its own shelter from the sun and rain. We also plan to attach gutters to each shelter so that we can collect the rain water off the roof to water the animals.
The property also came with some pretty run-down animal pens.  They have nice roofs on them, but the posts that were used were not protected, so they have rotted.  They also seem to have used random pieces of fencing and whatever other materials they found to enclose the animals.  We want to tear each pen down, one by one, and rebuild them with new posts that won't rot, and new fencing material.  We can re-use all the roofs.
Please help us improve all the facilities for our animals by choosing this fund raiser!
Hanging Bridges – $1000  We plan to connect each of our volunteer "tree cabins" to each other and to the monkey enclosures in the trees by using hanging bridges. The hanging bridges will enable the volunteers to care for the monkeys without having to go to the ground; they can go right out the door or porch from their cabin, to where the monkeys will be kept while they are healing from their injuries or trauma.  Each hanging bridge needs a lot of cable, bolts, welding and diamond mesh for the flooring/walkway. Please help us to connect our "village in the treetops" by fundraising for one of our hanging bridges!
Monkey Environmental Enclosure- $1500  In order to complete our permit process, we need to build more enclosures to have space for recovering monkeys to heal, or for orphaned baby monkeys to bond and play with each other.  This will facilitate them going back into the wild together as a troop (monkey family). We could also use it for other species of wildlife, depending on our needs at the time.
We plan to build the enclosures 20′ (6 meters) off the ground and connect them to each other by hanging bridges.  This keeps the monkeys up in the trees in their natural habitat.  It will also help prevent teaching them that it is safe to walk on the ground.
We also plan to build "tree cabins" the same height up, so that volunteers can live and sleep up in the trees at the same height as the monkeys.  Baby monkeys especially want to be held and like to cuddle.  This way, we can meet their emotional needs without them having to come down to the ground where the people are.  Walking on the ground is not safe when they are in the wild, so we don't want them to learn to feel safe on the ground.  This will eliminate this current problem that we are having with our monkeys feeling safe on the ground.
We will make the enclosures out of metal tubing, so there's no wood to rot. We have a volunteer here who can weld, so the labor will be free.  We just have to buy the materials. They will cost right at $1500. The pictures below are of one of our only existing monkey enclosures.  It is far from enough!  Please enable us to have more room to house injured and orphaned monkeys and other wildlife by choosing this fundraiser project!
Volunteer Cabin Improvements- $2000   We have a small volunteer cabin that is in real need of improvements. Our volunteers are the lifeblood of our project and without them, we'd have nothing. The cabin needs to be jacked up and have the floor leveled and have new footings built under it. It just received new wiring, switches, electrical outlets, ceiling fans and lights to keep it cooler and brighter. It needs some plumbing work done.  We also would like to put new screens on it to keep the mosquitoes out.
We also have a concrete pad attached to our main house and we'd like to extend the roof out to make four more small volunteer bedrooms attached to the house. We'll need funding to make all these improvements for our volunteers living and sleeping quarters.
If you really want to help our volunteers to be more happy and comfortable, choose this fundraiser!
Land- $3000  We need to purchase the land that The Monkey Farm is on and we would also like to purchase more land for conservation where the monkeys live.  Please help us continue to save these lives and give them a great place to learn to be monkeys and then go live on their own in the wild by joining a monkey troop (family). The monkeys need your help!
Tree Cabins for Volunteer Housing- $5000  We urgently need more and better housing for our volunteers to live in. They are the lifeblood of our operation and without them, we would be nothing.  We want to take better care of them than we are able to right now.  Our current volunteer housing is primitive at best.
In addition to better housing, we need MORE housing. We are currently turning down about 20 applications for each one that we can accept.  If we had more housing, we can accept more volunteers to move our project along faster.
We have plans to build "tree cabins" 20′ (6 meters) off the ground, up in the trees.  This will enable us to be up at the height that monkeys live naturally.  The baby monkeys especially want a lot of attention, to be held and to cuddle. This will enable us to do that for them, while keeping them up in their natural habitat.
We will connect the cabins to each other and to the monkey enclosures by hanging bridges. It will be like a little village in the sky.  We are ready to start right away, we just need the funding.  We think we can build each cabin for about $5000.  Please help us to provide more and better housing for our precious volunteers by choosing this fundraiser!