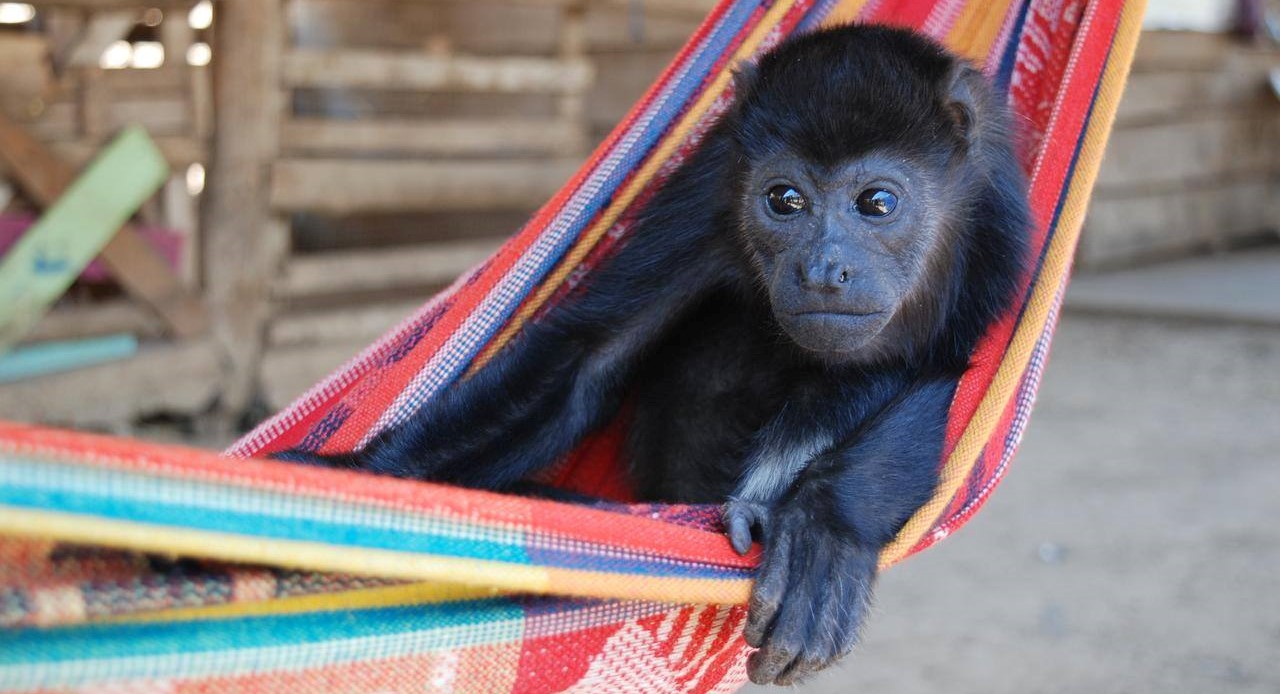 Join our passionate community of life-changers who are committed to giving what we can every single month until our dream is realized.
Help create the world's first wildlife rescue center that is completely self-sufficient and sustainable!
Just three years young, The Monkey Farm is already making great strides in increasing the populations of monkeys in all of Costa Rica. According to an intensive 2007 study by biologist Ronald Sánchez of the University of Costa Rica, the country lost more than half its monkey population between 1995 and 2007. Sánchez estimated that spider monkey populations declined by 72 percent, squirrel and white-faced Capuchin monkeys 43 percent each, and howler monkeys declined by 65 percent. Who knows how much more the monkey population has declined in the many years since the study has been done?
The deadliest problem for monkeys and other arboreal wildlife in Costa Rica is uninsulated electrical lines and transformers. These electrocutions cause a slow and excruciatingly painful death. On October 13th, 2016, we met with government officials from Natural Resources, a representative of the University of Costa Rica and participant in the above mentioned study. After two years of communication and research, we are able to bring to Costa Rica a provider of insulating materials that will charge less than one-third of what is currently being charged for these materials in this country. This makes the protection of the monkeys from the electrical grid no longer cost-prohibitive.
Due to the newly acquired reduced cost of these materials, steps are being taken by the government to pass a law requiring all electric companies in Costa Rica be responsible for insulating their power grid to stop the electrocutions of our monkeys and other arboreal wildlife. But we didn't stop there…

We are also working with the government and the University of Costa Rica to create protocols and better practices for rescue centers to follow in order to facilitate the return of double the amount of howler monkeys into the wild. These better practices are partially the result of us working with and learning from a world-renowned primatologist from Duke University in North Carolina.
We are currently working with another world-renowned primatologist from UCLA in California to develop better practices for the successful rehabilitation and release of white-faced Capuchins. Once best practices have been determined, we will return to the authorities for help in making these standard protocols in all rescue centers. This will increase the populations of the white-face monkeys in all of Costa Rica.
In addition to these good works to save the wildlife, we are helping to create a guide for all of Costa Rica's firemen and police officers. This guide will teach them how to handle wildlife properly to get it to a rescue center as safely and trauma free as possible. We will soon be conducting training sessions to teach proper handling techniques to first responders.
And we don't just help animals, we also care about people. We are feeding the poor and homeless every Tuesday evening at 7:00, rain or shine. On Monday and Wednesday evenings we teach English to local adults who want to get better jobs to provide for their families. One of our goals this year is to create a local food pantry, so we can feed many more people than we can currently help. We will then work to turn this into a nationwide campaign to open volunteer-run food pantries in all of Costa Rica.
We also are taking other measures to end hunger in our region, then we will take it worldwide. We are experimenting with combining many different methods of gardening to be able to grow food through our annual six-month drought. We call this "Guerrilla Gardening" as we have declared war on drought! When we have discovered what are the very best methods for growing food without water, we will teach them for free to locals so they can grow food for themselves and their livestock during our dry season. Then we will publish our methods to help people in drought areas all over the world to help end world hunger.
We plan to take this knowledge and also create a type of free community garden using the public spaces in nearby Playas del Coco to grow food. We already have permission and pledged assistance from many land and business owners in town. We hope this will provide free food for anyone who needs it in our area. As soon as the next rainy season starts, our planting free food will start.
We care equally for our environment. We recycle and reuse and re-purpose everything we can. A future goal is to become a zero-waste farm, producing no garbage. We participate in beach clean-up campaigns and street clean-ups. We often host both public and private schools to teach our next generation organic farming techniques and about wildlife protection and conservation. We never charge for this.
With all of this, we are the only rescue center in the world (that we are aware of), that does not charge either it's volunteers to work, live or eat here, nor charge for visitors to tour our facility, see our animals or learn about what we are doing. We plan to continue this practice forever, but we need your help. We need to cover our monthly expenses. Please help by contributing $25 per month, (or more!) on an automatic basis. It's easy to start, just click here:
Donate goods and services
We welcome donations of all sorts. Below is a list of some of the tools, materials, equipment and other items that we at The Monkey Farm really need right now.
Construction MATERIALS:
Roofing materials of any kind
Concrete blocks
Cement
Pavers
Paint of any color
PVC of any size
EQUIPMENT:
Animal carriers and pet shipping crates of all sizes
Garden hoses
Solar panels and batteries (to get off the grid)
ANIMALS for farm work and food production:
Egg laying chickens
Geese
Turkeys
Guinea hens (they eat ticks)
A donkey (keeps predators away)
Red wiggler or composting worms
STUFF for volunteers:
Twin or bunk Beds and Twin Mattresses
Bicycles
Special Skills/SERVICES Needed:
Welding
Plumbing
Electricity
Auto Mechanic
Construction
Maintenance
To help us reach our goals:

We Need Your Help! Get Involved Today!
The Monkey Farm in Costa Rica is creating the world's first wildlife rescue center that is completely self-sufficient and sustainable using regenerative farming and permaculture techniques. Come volunteer!
Click Here to See How You Can Help!